On April 25, 2009 BCER 1304 was welcomed back to Canada at our Sullivan Station car barn. For the story of this car, including a devastating fire and brush with royalty read further.
Citations and page references, unless otherwise noted, are from The Story of the B.C. Electric Railway Company, by Henry Ewert, Whitecap Books 1986. Used with kind permission of the author.
Originally built at the New Westminster shops in June 1911, as part of the three car Fraser Valley interurban work order for 1303, 1304 & 1305, patterned after the existing set: 1300-1302. They were joined in June by three G.C. Kuhlman Car Company cars that became 1306 – 1308.
"How the B.C. Electric prepared for royalty! For the visit of their Royal Highnesses, the Duke and Duchess of Connaught and their daughter, Princess Patricia (the Duke was then Canada's Governor-General), the company decorated its head office building with a blaze of lights and royal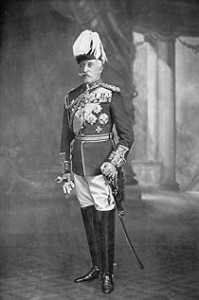 motifs. (This was their second visit. What changes they must have observed since their first trip in 1890.) But the company outdid even itself. Selecting one of its New Westminster-built Fraser Valley branch interurban cars, the fifteen-month old 1304, the company sent it back into the car shops for an extraordinary transformation, and when it reappeared, it had been freshly painted; it also bore the royal coat of arms, twice on each side, the name "Connaught" and the company's name in full, both delicately, but boldly, lettered in gold on each side."
"Its interior, with seats and partitions removed, resembled a well-appointed living room, with carpet, curtains, and upholstered chairs, mostly in cream and green. The orange glass of the upper arches of the windows was masked by the curtains, and red light bulbs were strategically installed elsewhere to resemble an open fire in a grate."
(P 105-106)
Service
"… Car 1304 soon reverted to normal life and service, its transformation having been quite magical and certainly short-lived. (It is the only Fraser Valley interurban still in existence today, at Fraser Valley Heritage Railway in Cloverdale, BC.
(pp 107)
1945 – Fire
BCER 1304 on Sept 16, 1945 – just after the fire
Photo by Ken Hodgson, collection of Bob Webster
(September 16, 1945) "…interurban 1304, the former 'Connaught car,' caught fire near Cloverdale while making its way west from Chilliwack, the last car of an empty three-car train. Only a virtually destroyed shell was left by the time the train's crew realized what was happening behind them and a brave, though futile, attempt was made to extinguish the blaze. It was not to languish long as a bizarre floor on wheels outside the company's Kitsilano complex; since passenger vehicles were still in great demand, the shops, busy with street car refurbishing and rebuilding, got to work, constructing a beautiful, new interurban car, its exterior patterned after the 1309 – 1311 series. Dark leather, foam-filled, flip-over seats were installed; walls of dark varnished mahogany and a cream painted ceiling clinched its unique handsomeness. For the second time in its career, car 1304 was an attention-getter. Its return to action on December 29 was an unqualified triumph, denizens of Carrall Street viewing with some amazement and pleasure a prime example of the car builders' art at its best, something the company's shops might have turned out in 1910, and could still do thirty-five years later later. 'Built at Kits. Shops Jan. 1946' proudly lettered over a vestibule door, 1304 quite possibly was the last wooden interurban car built in North America."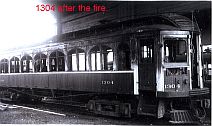 BCER 1304 on Sept 16, 1945 – just after the fire

Photo by Ken Hodgson, collection of Bob Webster

BCER 1304 after the fire

BCER 1304 rebuilt after the fire
1950s closing services
(Saturday, September 20, 1950)
"… much special activity was occurring, adroitly stage-managed by interurban superintendent Mouat and chief dispatcher D. W. Stearman." Car 1311 left from Chilliwack in the morning heading west. Cars 1310 and 1307 departed New Westminster with a full load of officials, seniors and retired Chilliwack line employees. These trains met at Langley Prairie at noon, touched cowcatchers and then the passenger service on the Fraser Valley line ended. At the conclusion of these ceremonies the three cars of the two trains were joined together and deadheaded to the New Westminster yards; all officials and guests completed their journeys on the buses.
"Within a week … with a view to the possibility of their giving longer-term service on the Central Park line, should that be necessary, the two 'newest' interurban cars, 1304 and 1321, had their toilets removed in favour of seating space."
(pp 267)
At 1:30 a.m. on July 16, 1954 the last interurban train operated from the Carrall Street Station on the Central Park line. Reaching Park Avenue at 2:10 a.m. it then proceeded to the New Westminster barn. Closing down sixty-three years of passenger service on the Central Park line was an interurban train consisting of cars 1316 and 1304. Car 1304 was saved from the scrap yard being declared the system's official standby coach. This decision enabled the car to survive until to today.
(ref pp 278 – 249)
1955 – One last run
"Interurban car 1304 had not been out on the Chilliwack line for almost five years, but when Yarrow teacher Miss J.E. Fowlie wondered in a letter to president Grauer if her grade three students might not have a train ride to round off a study unit on transportation, it was as good as done. One of the diesels hauling a freight train brought 1304 to Chilliwack, where the thirty-eight students, with their teacher, boarded it for a forty-five minute ride to Yarrow. After the students had inspected the train's caboose, the freight train continued on its way to New Westminster, leaving behind a class of bubbly, still side-eyed children."
A reunion was held in the summer of 2015 of the riders of this last run. See our blog for more on this.
Car 1304 left Canada in 1955 and moved to Glenwood, Oregon to reside at the "Trolley Park" of the Oregon Electric Railway Historical Society. It was returned to Canada, to the FVHRS in 2009.
Rehabilitation
Rehabilitation of 1304 is now well underway in the car barn. The target date for completing the work and have 1304 operational (subject to funding) is 2017. It is worth adding the Rehabilitation of the body of 1304 is well advanced, fundraising to rehabilitate the seats was a success and this work is well under way. The traction motors will be sent off for refurbishment shortly. Work is underway to rehabilitate the trucks. Anyone interested in assisting with the rehabilitation of 1304 can contact us at info@fvhrs.org.
1304 being lifted from the barn at Sullivan in preparation for it's journey to Cloverdale August 2012.
1304 lifted up for it's trucks to be removed Oct 2013